In one scene early in part two, we see Xena battle Cyane, the Amazons' leader, with Cyane symbolically defeating her by stealing her clothes and putting them on. This is actually taken from a Hong Kong film, in a flirtatious clothing swap between Brigitte Lin and Maggie Cheung. The clothing swap is more humorous here because Lin's character is disguised as a man03

The title of this episode is taken from Dylan Thomas's novella, "Adventures in the Skin Trade", about a young writer who learns to embrace his Dionysiac self, and meets an actress who induces a shamanic trance in him, turning London into a jungle of satyrs and nymphs. The key word here is "skin," and the "skin trade" occurs in "The Bacchae" when King Penthius trades his royal robes for the women's maenadic dress. But this skin metaphor goes further in this episode: part one ends with with the surviving members of the Northern Amazons taking on Alti's soldier, a beserker on horse. The beserker has remarkable abilities to leap on his horse and spin around that's strongly influenced by Hong Kong acrobatics, and the fact he eludes Xena's blows means there's some kind of magic at work. Actually, on this show, there's a rule against portraying magic or magicians, so anything that seems magical is actually religious in nature. In this case, the beserker's magic comes from shamanism, but not the Siberian kind; it might seem odd that a show about Siberia would even have a beserker, which we commonly think of as Nordic. The beserker, then, seems kind of slapped onto the story, as if this episode was constructed by pulling villains out of a book of nasty creatures. That's not actually the case: if we consult Eliade again, we'll find the relevance:



"Among the ancient Germans the predator-warriors were called beserker, literally 'warriors in the body-covering [sekr] of a bear.' They were also known as ulfhedhnar, 'wolf-skin men.'"04





This connection of the bear-skin wearing beserkers with the wolf-skin men connects to Eliade's book on shamanism, particularly the chapter on "Techniques of Ecstasy among the Ancient Germans." There we find a wealth of connections that appear on the show, connecting the Amazons with the Valkyries of the Ring cycle, not to mention the Norse cycle on "Hercules." The Valkyries were also werewolves, according to Eliade, and in the sixth season we'll find out that evil Xena joined the Valkyries of Odin after decimating the Northern Amazons. As Lucy Lawless pointed out on her dvd commentary for this episode, Rob Tapert's interest in depicting the origins and migrations of religious custom lies behind not only this episode, but the series as a whole.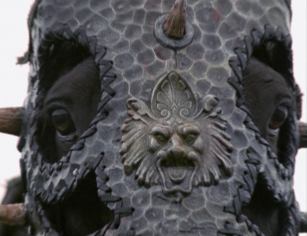 The Gorgon mask of the Beserker horse





There's more Greek myth here than just "The Bacchae," however. The trading of the wolfskin plays a key role in Euripides' "Rhesos": a notable translation of it05 mentions the Beserker in connection with Orpheus in its footnotes. The Beserker's horse on "Adventures in the Sin Trade" may even reflect this play, this passage in particular:



"The horses' foreheads have Gorgon faces tied to them,
like the ones you see on Athena's breastplate,
but brass instead of gold."





Later, another quote in this translation describes the Gorgon's face on Athena's shield:



"On her silver breastplate, the golden Gorgon head glares, gaping eyes, flat nose, sharp fangs, tongue protruding."





The play demonstrates that Athena's mask is an accurate reflection of the goddess herself: deceptive and cruelly efficient in the horrors of war. The trading of supernatural horses is another element in the story, and the young Northern Amazons make a point of capturing the Berserker's possessed horse for their own use.

The relationship of Xena to Otere has its roots in Xena's relationship with Hercules. I mentioned before the connection in Euripides' play, "Herakles": Theseus comes to Hercules' rescue by offering unconditional friendship. There's a scene in Theseus's childhood when he first confronts Hercules:



"One day Heracles, dining at Troezen with Pittheus, removed his lion-skin and threw it over a stool. When the palace children came in, they screamed and fled, all except seven-year-old Theseus, who ran to snatch an axe from the woodpile, and returned boldly, prepared to attack a real lion."06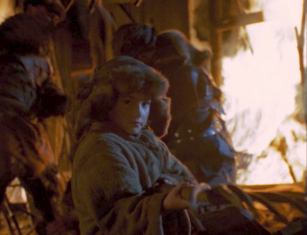 Young Otere defying Xena in battle





This is dramatized on the show when young Otere's village is being attacked by Xena, and comes face to face with her: the young child picks up a pitchfork and boldly aims it at the warrior princess. This is no mere coincidence: the story of young Theseus is told on "Young Hercules," and on "Hercules" as well, in "Centaur Mentor Journey."07 It's clear the producers were aware of it; they used it differently each time, and this time, it's in keeping with the skin motif: the lion-skin of Hercules. This tells us a great deal about 16 year-old Otere's point of view when she meets Xena again. Instead of regarding her as a monster, she admires Xena and wants to inherit her power, and this is from the story of Theseus as well. Just after his encounter with Hercules' lion-skin, Theseus devotes his life to becoming like Hercules. He visited the temple of Delphi at age sixteen, cutting his hair short (like Otere's), to prevent his enemies from grabbing his hair during combat, and travelled the country armed with a club--just like Otere! The story of his birth was hidden to him, and he was told the whole truth of it and given his sword and sandals when he came of age, just as Otere is given the truth about her youth by Xena. Xena must prevent Otere from admiring the kind of person she was by being honest about what she was, but Otere is eventually able to forgive and accept her, just as Theseus was able to embrace Hercules after his terrible crime. If we compare the costumes of the other Theseus characters, along with Hercules, we'll see that Otere's furs are a rustic imitation of Hercules. As an Amazon, she's a warrior like he is, and when the time comes for Xena to appoint a new shamaness, she doesn't pick Otere, but Yakut instead, Otere's impetuous companion who is much more suited to the ecstatic experience. Otere is more deliberate, a champion of her people like Theseus or Hercules, rather than a maenad like Yakut or Anokin, or Xena for that matter.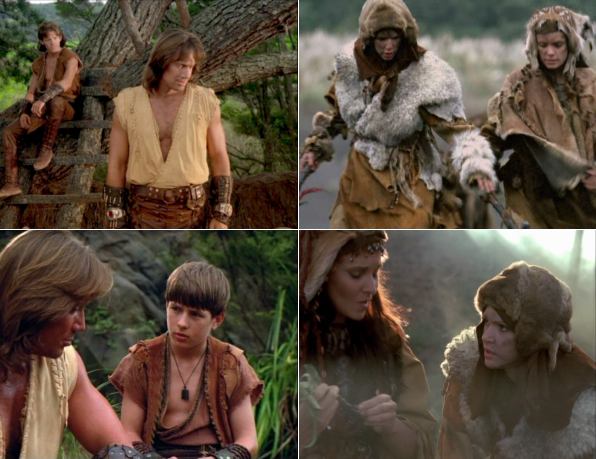 Clockwise from top left: Hercules & young Hercules, "Regrets, I've Had a Few; Otere & Yakut; Hercules & young Theseus in "Centaur Mentor Journey;" Xena & Otere.





As one of the three "Xena movies," this has several motifs that will be repeated. One of the most important of the series is Xena's identification with girls in their mid-teens, which is around the age that she began her fall from grace. She seeks to prevent them from making the same mistake, but, as she grows from immature, reckless youth to evil warlord, to her first attempts at redemption, her ability to make a difference in their lives often ends in tragedy. Her affect on Otere was tragic, until she was able to make amends, but her bloody encounter with the Northern Amazons began with her relationship with Anokin. She was an apprentice to Alti, practically offered as a gift to Xena, with the awareness that Anokin would spark an emotional bond with Xena that would work to Alti's advantage. Anokin's first appearance is bacchic: she displays her throat in the throes of ecstasy, the signature of the bacchic trance, according to E.R. Dodds' "Greeks and the Irrational" (Xena displays this behavior as well when she begins her shamanic trance at the episode's beginning). Almost as soon as she's introduced, however, we see Xena mourning her death, and learning shaman techniques to win her back. She's unsuccessful, since Anokin regards her as an evil influence, now that the afterlife has given her a clear perspective. Xena vows to seek revenge on the dead after this rebuke, with Alti's help, with the final result of Xena's obliterating the Northern Amazons, supplying Alti with souls to power her religious magic. This gives us a better idea why Xena was so reluctant to pursue Gabrielle to the Land of the Dead, triggering her memory of how such a pursuit nearly destroyed the Northern Amazon Nation.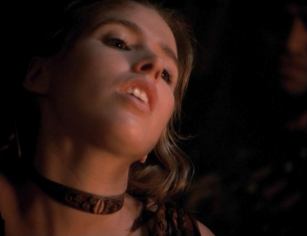 Anokin





So who is this Anokin? Her name tells us part of the story: there can be no doubt it's taken from A.V. Anokhin, one of the most prominent and best known Russian researchers of the Altai mountain region (mentioned prominently in Eliade). He founded the Local Studies museum, and later on, his name was used for the A. V. Anokhin National Muesum of the Altai Republic, which houses an amazing discovery made not long before "Xena" premiered, in 1993: an Amazon Princess of the Altais was found frozen in her burial site made 2,500 years ago. She was probably a shamaness, and the local tribes felt her burial site had great power; they believed it was wrong for scientists to dig her up and move her to a museum. Despite this, she was removed and transported by helicopter; while in transit, the helicopter crashed, killing everyone, but the mummy was still intact. The princess, it was believed, wished to stay buried, and the use of A.V. Anokhin's name for this character is a good indicator that Anokin represents the motif of the restless soul resulting from improper burial. We'll learn the rest of Anokin's history when we look at "Kindred Spirits."